Shell and Tube, Floating Head, Plate and Fin, Bayonet, Air Coolers are just a few of the types of heat transfer equipment.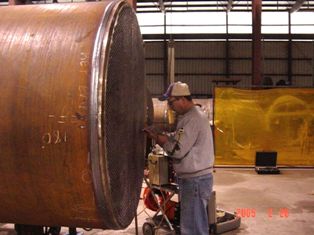 What happens when an exchanger leaks?
Environmental hazard
Inadequate pressure or temperature rating
Inadequate heat transfer
Failing equipment
Undesired pressure changes
Fouling of tubes
Accelerated corrosion
Excessive load
Forced outages
Loss of heat transfer
Microbiological growth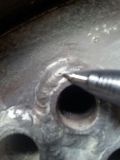 Pin Hole in Tube Weld
Eventually, a leaking heat exchanger will cause an increase in operations costs. We are able to detect large and very small leaks in heat exchangers before the leak(s) become a liability.
Our leak test procedures exceed the requirements of ASME, ASNT and other applicable codes.
It doesn't matter if the tube to tube-sheet joint is welded or expanded - it can be tested to a high degree of accuracy.